RFID Technology
In its simplest form in common use today, an RFID system consists of four elements, as shown in Figure 1. The RFID tag element consists of an antenna integrated with a microchip. The RFID reader and antenna transmit an electromagnetic RF signal. This signal is received by the RFID tag via the tag's antenna. The energy in the received signal provides the power to the tag that allows the microchip to operate. This is referred to as a "passive" tag.
This data from the microchip is then added to an RF signal that is "reflected" by the tag back to the reader through the reader antenna. This process is referred to as passive backscatter. The reader contains the electronics to receive this signal from the tag, extract the RFID tag's code from the signal, and return it to its digital form, and provide that returned code to a host computer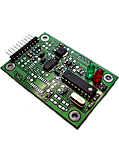 GPS/GPRS/GSM Tracking security and worldwide Cars/Trucks/Build - and Agrar Machines worktime monitoring
* - GPS/GSM fleet realtime monitoring for CARS/TRUCKS/ BUILD- and AGRAR MACHINES
* - Download from memory via GSM the last 5.000 positions(Date, hour, Status)and watch the route on the digital map.
* - Selfalarm and tracking by leaveing the" virtual securized area"
* -Parameter settings: via GSM. Password securized GSM server-blackbox comunication.

MCU Tools
* - PIC/ATMEL/XILINX/ARM7/ARM9 development boards and programmers
* - RS232/RS485/CAN/USB to TTL/CMOS drivers and converters
* - Realtime clock/ADC/EEPROM